Halifax West Warriors
2021 Panther Classic Champions
Halifax West Warriors capture Panther Classic at Glace Bay Miners Forum
Host Panthers knocked out by Riverview Ravens in semifinal game
David Jala | Posted: Dec. 12, 2021, 5:24 p.m. | Updated: Dec. 13, 2021, 7:18 a.m. | 2 Min Read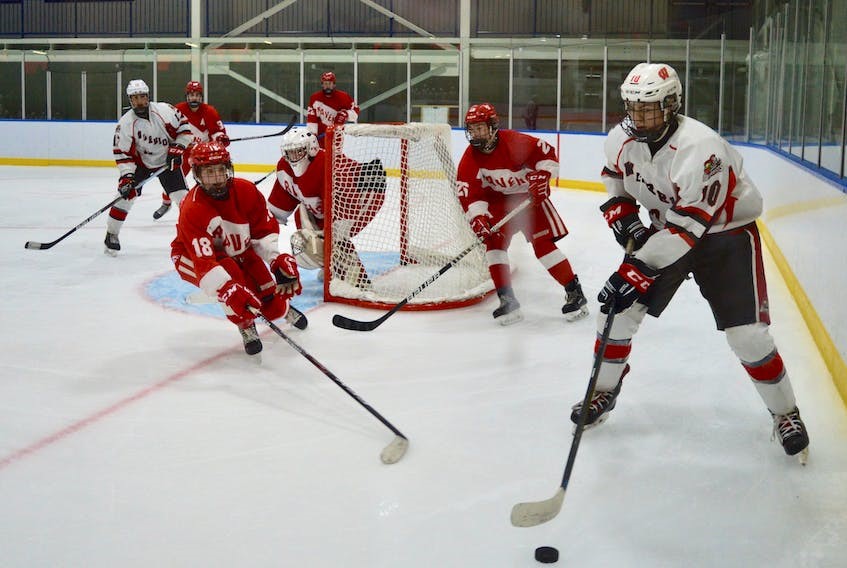 Halifax West Warriors forward Jack Hustins has the attention of several Riverview Ravens players, including defenceman Curtis Fogarty (#18), goalie Devon Gallant and forward Royce Balcom (#26), as he skated around the net during the championship game of the Glace Bay High-hosted Panther Classic on Sunday at the Miners Forum. The Warriors defeated the Ravens 3-0. - David Jala
SYDNEY, N.S. — The Halifax West Warriors captured the 2021 Panther Classic on Sunday when they defeated the Riverview Ravens 3-0 in the championship game at the Glace Bay Miners Forum.
The Ravens outshot the Warriors 32-24, but Halifax West goalie Mitchell Spearns, who was named his team's man of the match, turned aside every shot to earn the shutout.
The Warriors goal scorers were Daniel Bar, Nick Tarnogorski and Owen Flemming, who sealed the victory with a last-minute empty net marker.
Halifax West advanced to the final match after defeating the Lockview Dragons 5-2 in one of two Sunday morning semifinals.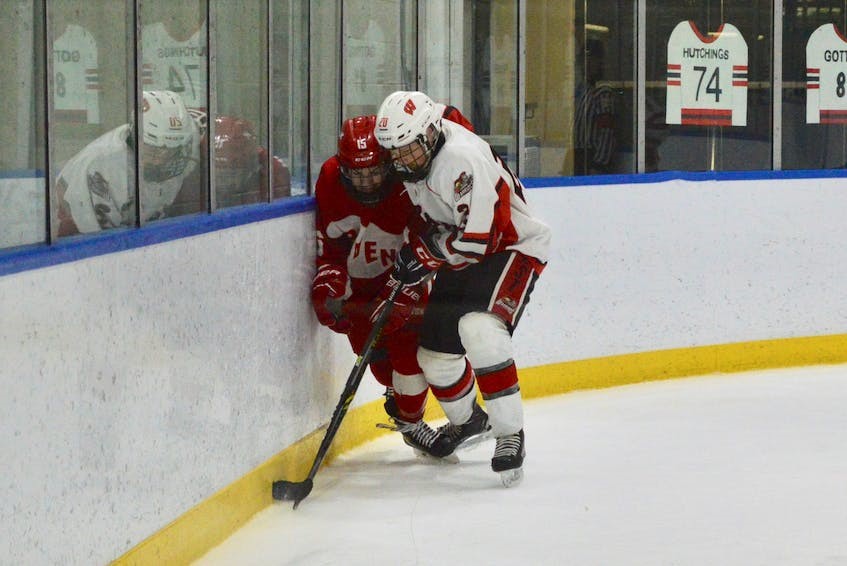 Halifax West Warriors' defenceman Alex Neaves puts the squeeze on Riverview Ravens forward Luc Sampson during the championship game of Glace Bay High's 2021 Panther Classic on Sunday afternoon at the Miners Forum. The Warriors defeated the Ravens 3-0 to capture the tournament title. - David Jala
Riverview advanced to the final after beating the host Glace Bay Panthers 3-1. Keigan Geizer, Luc Sampson and Royce Balcom scored for the Ravens, while Mason Fraser had the lone Glace Bay goal.
Sydney Academy Wildcats, Memorial Marauders, Citadel Phoenix and the Auburn Eagles also participated in the eight-team tournament. The 2021 Panther Classic was the first Cape Breton high school hockey tournament to feature a full slate of teams since prior to the start of the pandemic.
Last month, the Memorial High-hosted Mae Kibyuk Green and Gold Tournament featured the four local teams plus competition-winner Dartmouth Spartans.